Products
Specialist Consultants for: Exd Combined Pressurisation Fire & Gas Control Panels (CPFG<®), Fire and Gas Panels, Fire and Gas Repeater Alarm Panels, Monitoring Systems, PLC Systems, MCC Control Systems, Motor Control Systems, Control Desk Systems, HVAC Panels, Machinery Saftey Control Systems, Control and Monitoring, Technology Programmable Saftey Systems, Safe Bus Systems, Operator Terminals
---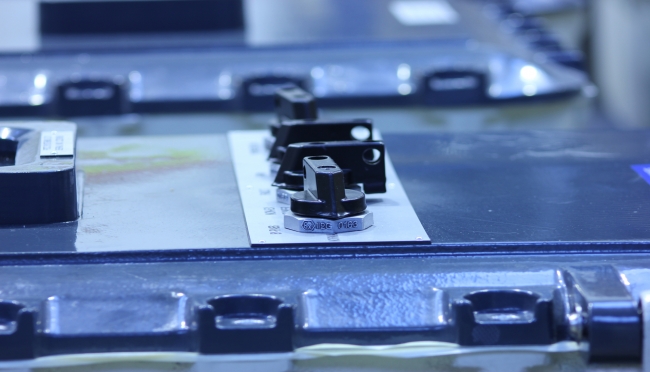 DOL motor starter is an electrical/electronic circuit composed of electro-mechanical and electronic devices which are employed to start and stop an electric motor. Regardless of the motor type (AC or DC), the types of starters differ depending on the method of starting the motor. A DOL starter connects the motor terminals directly to the power supply.
Hence, the motor is subjected to the full voltage of the power supply. Consequently, high starting current flows through the motor. This type of starting is suitable for small motors below 5 hp (3.75 kW). Reduced-voltage starters are employed with motors above 5 hp. Although DOL motor starters are available for motors less than 150 kW on 400 V and for motors less than 1 MW on 6.6 kV. Supply reliability and reserve power generation dictates the use of reduced voltage.
Star Delta starters are probably the most common reduced voltage starters in the 50Hz world. (Known as Wye/Delta starters in the 60Hz world). They are used in an attempt to reduce the start current applied to the motor during start as a means of reducing the disturbances and interference on the electrical supply. The Star/Delta (or Wye/Delta) starter is one of the lowest cost electromechanical reduced voltage starters that can be applied and this is why it has been so popular.
---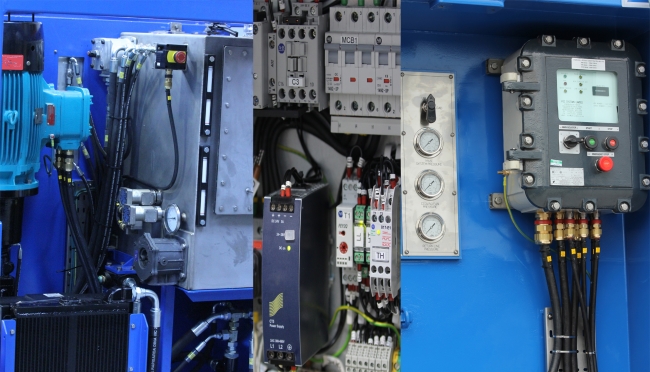 A board containing multiple electrical devices to turn electric current on and off or direct its flow capable of opening and closing an a path, or an interconnected group of paths (at least one of which is closed), capable of carrying the flow of electricity through a conductor in all operating conditions, including fault situations.
MCB used to mean "Miniature Circuit Breaker", typically a DIN rail mounted circuit breaker in a small format that is limited to 100A, and is intended for use in installations with low fault current capacity (under 25kA) unless protected by upstream fuses. MCB's / Supplementary Circuit Protectors are sealed units that can be neither maintained nor repaired.
MCCB, meaning "Molded Case Circuit Breaker", but has been very well adopted at the engineering level. MCCB's generally range from 15A to 1600A. There are versions that are Current Limiting (CL) as well. MCCB's are typically sealed units and cannot be serviced, although in larger sizes there are versions with interchangeable parts that can be replaced such as trip units and switch bodies.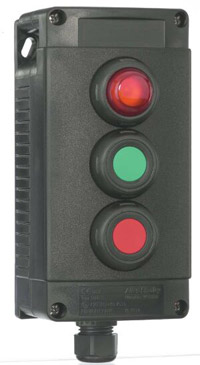 BULLETIN 800G HAZARDOUS LOCATION PUSH BUTTON STATIONS
The new 800G components are modern in design and compliment the existing Allen-Bradley line of push buttons. They may be ordered as complete factory assembled stations or as separate components. Components are interchangeable between base and panel mount devices, thus reducing inventory. This new line also provides a lower installation cost option through the flexibility of using cable.
BULLETIN 800G HAZARDOUS LOCATION PUSH BUTTON STATIONS
The pre-assembled enclosures, along with standard components, are designed to meet worldwide hazardous locations requirements. They are dual rated for Zone 1, Zone 2, and for Class 1, Division 2. To Order phone +44 (0)1467 633355